*FYI - this post may affiliate links, which means we earn a commission (at no extra cost to you) if you purchase from them. Also, as an Amazon Associate, I earn from qualifying purchases. For the full scoop on what this means, feel free to check out our Privacy Policy and Disclosure.
Hello beautiful bored people and welcome to Munich events weekend 41! This weekend favours music, art, dancing, and the start of Auerdult!
Free Events, Activities And Festivals This Weekend In Munich
This weekend is filled up with so many free events and great selections of activities for all ages. Have a look below to find your weekend plans in Munich.
Winners will be announced Wednesday October 11, 2023 at 7.30 p.m
Lightinstallation @ Königsplatz
As part of Breast Cancer Awareness Month in October, Estee Lauder and We Are Video presents an impressive light-video installation in the center of Munich's museum district!
The building will not only be illuminated, but a small exhibition will be hosted in the left wing, a projection-based body painting in the right wing, an interactive installation on the two towers where you can conjure up a loop on it with your body, and a pink laser shining all the way to Karolinenplatz.
When: October 11-13, 2023 // From dusk until 11 p.m
Where: Königsplatz
Cost: Free Admission
Gasteig Salsa Night
For the first hour, take part in a crash course with Salsamás dance professionals for a glimpse into the world of salsa.
Then enjoy a lively salsa party with DJ David Munoz, suitable for dancers of all levels. Experience the unique atmosphere of this exceptional dance floor or observe from the elevated galleries of the protected Hall E.
When: Thursday, October 12 // 7 p.m. – 12 a.m.
Where: Gasteig HP8
Cost: Free Admission
Open Art Workspace
The mid-October art workshop has finally arrived. The event promises a collaborative atmosphere for participants to engage in drawing, painting, and creative exploration.
Enjoy opportunities for mutual interaction, idea-sharing, and of course, art!
When: Friday, October 13 // 4:30 p.m. – 7 p.m.
Where: Ruppertstrasse 5, Room 2
Cost: Free Admission

Munich's theme for October is "More Museums for All", so this Saturday that's exactly what will be offered.
Over 90 museums, collections, galleries, churches, art spaces, and unique venues will welcome you to the 24th edition of the "Long Night of the Munich Museums."
As well as regular exhibitions, various attractions await night owls for a unique experience of art, culture, science, and technology!
When: Saturday, October 14 // 6 p.m. – 1 a.m.
Where: 90+ museums across Munich
Cost: €23.50
Drink & Paint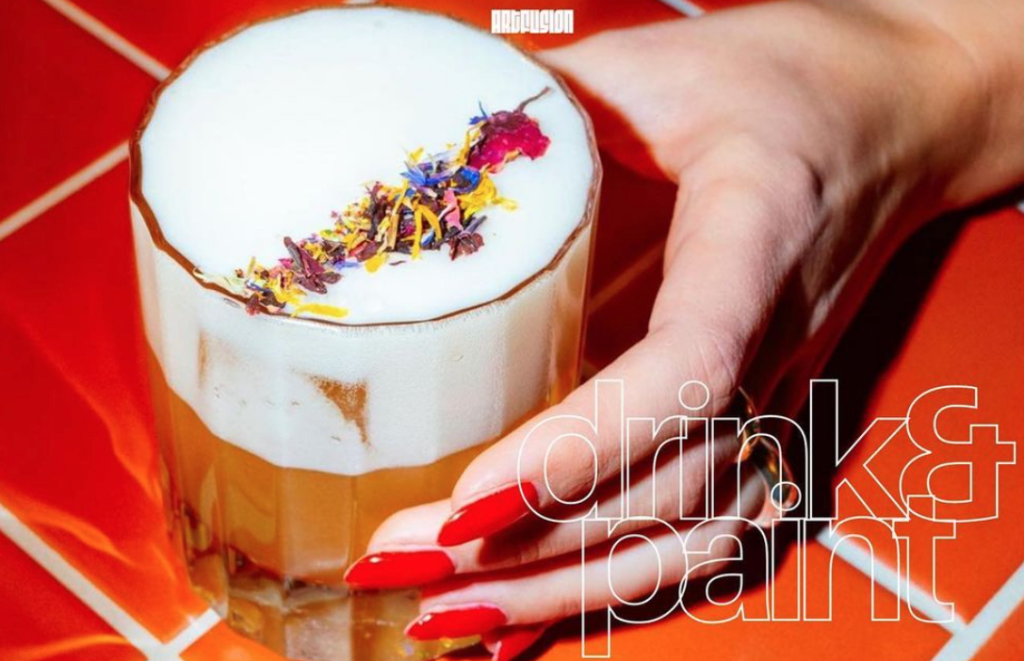 Art Fusion debuts in Munich, offering an exciting blend of creativity and pleasure. This unique evening invites participants of all skill levels to craft their masterpiece in a relaxed and inspiring setting, all materials provided!
Choose from a range of refreshing cocktails, wine, and non-alcoholic beverages to fuel your artistic journey. Enjoy a live DJ set and the Munich Special (an exclusive Art Fusion Cocktail) as a welcome drink.
Extend the fun at the Art Fusion After Party in Terra Bar.
When: Saturday, October 14 // 7 p.m.
Where: Baaderstr. 1
Cost: €52.74
Auerdult Kirchweih Autumn Event
For a week and a half in mid October, come and celebrate Auerdult! This event has occurred thrice annually and is rooted back into the Middle Ages.
This historical event's name, "Dult," originally referred to a church festival where stalls selling goods were arranged around a church in homage to a saint. Over time, its connotation evolved, coming to symbolize a "fair."
When: October 14 – 22 // 10 a.m. – 7 p.m.
Where: Mariahilfplatz
Cost: Free Admission
Therme Erding Night Of Music
Experience live music, DJs, and a distinctive holiday ambiance at the "Night of Music" series in the VitalTherme & Saunas area (for ages 16 and above).
Delight in soothing tunes from acoustic cover bands and lounge acts while you relax in the 34-degree thermal water. Conclude the evening with refreshing cocktails at the pool bar, all in a tropical paradise setting, creating a perfect atmosphere for a memorable night.
When: Saturday, October 14 // 6 p.m.
Where: Thermenallee 1-5
Cost: €15
American Football Public Viewing
Come out and watch the Baltimore Ravens take on the Tennessee Titans for some Sunday afternoon American Football!
While the game doesn't start until 3:30, doors open at 3 so make sure you come early to grab a seat!
When: Sunday, October 15 // 3 p.m.
Where: Reitknecht 6
Cost: Free Admission
Looking For Other Deals Or Cool Things To Do In Munich?
We always make sure to keep our event calendar up to date with the latest and greatest upcoming activities. Check it out here if you are interested in more than the few above mentioned events!
If you're still strapped for ideas on things to do this weekend, check out Groupon. If it's your first purchase, you can use the code HALLO to save 20% off any of their local deals, which means you can splurge on cool experiences like restaurants, alpaca walking, and even hot air balloon flights at a steep steep discount. Click here to browse.