*FYI - this post may affiliate links, which means we earn a commission (at no extra cost to you) if you purchase from them. Also, as an Amazon Associate, I earn from qualifying purchases. For the full scoop on what this means, feel free to check out our Privacy Policy and Disclosure.
Hello beautiful bored people of Munich, and welcome to Munich Events Weekend 11! Spring is coming next week, so make sure you've got plans to be out and about enjoying the city!
This weekend offers a variety of options for those who appreciate art – either by observation or by taking part in it! From a Vernissage with live music to witnessing live the art of drinking Munich's strong beer, there is a pretty good list of happenings to scroll.
If you're looking to make plans, check out our list below!
Free Events, Activities and Parties This Weekend in Munich
A wide variety of events (some even free!) will be happening this weekend, with activities suitable for all ages. Check out our list below to see Munich has to offer this weekend!
Brazilian Dance Course With After Party
Need some great Thursday night plans? Why not head over to Import Export and learn how to dance to Forró – a traditional music style from Brazil.
This high-energy, very popular couple's dance style is easy to learn! There will be a party afterward with drinks and music as well, an excellent way to show off your newly-learned dance moves.
Unfortunately, this event is only for those over the age of 19.
When: March 16, 2023 // 07:00 PM-12:00 AM
Where: Schwere-Reiter-Str. 2h
Cost: 7-8€ (pre sales) or 10€ at the door
Vernissage And Live Music
Come to Köşk München to see "Fab" – an all-female punk group home-grown in Munich! This group has its own work written in Turkish and German, and also covers songs from Rihanna and Slime.
In addition to the musical performance, work from Ulrich Sebulke and Dunuia Barrera will be on display. Both artists use a collage style and reach back from times lost either in newspaper or magazine format to create exceptional pieces capturing moments in history.
Köşk invites everyone interested to "look, smile, shudder, wonder" in this upcoming event!
When: March 16, 2023 // 07:00 PM
Where: Schrenkstraße 8
Cost: Free Admission
Salsa Night In Gasteig
An evening of salsa dancing! Hall E has hosted quite a few dance nights and they have all been great hits. From 7-8 pm join professional dancers from Salsa y corazon as they teach you the different styles of salsa for free! You can bring a partner with you to learn or can come on your own!
After the hour, the entire hall will open up to a salsa dance party with DJ Hec. All levels of dancers are welcome to salsa dance the night away! If watching is more your speed, the galleries above make for an excellent observation point on one of Munich's "most extraordinary dance floors".
When: March 17// 07:00 PM-12:00 AM
Where: Hall E// Gasteig HP8
Cost: Free Admission
HIDALGO Installation and Performance
A performance about a utopia we may already be part of, the HIDALGO performance seeks to immerse its audience between the world of digital and and sensual.
Located at the Theater in Marstall, the performance will take place on Saturday, March 18th from 4 pm to 8pm on "New Sensuality" in the theatre's foyer. During this time there will also be art installations from various groups available to observe throughout the Marstall. Admission to this event is free.
At around 7:30 pm, the final HIDALGO performance will take place, lasting around 15 or so minutes before concluding for the evening. Afterwards, you will be able to take place in a discussion of the performance and how it has been perceived for 9€. When the discussion concludes there will be a "New Sensuality Party".
When: March 18, 2023 // 4:00 PM – 8:00 PM and beyond
Where: Marstallpl. 4
Cost: Free Admission
KreativQuartier Flower Candle Workshop
Come down to the Kreativquartier München on Saturday, March 18th to put together some colourful flowers with dried flowers inside!
For almost a decade now the IMAL art and culture project has been creating opportunities for everyone in Leonrodplatz to enjoy making, changing, or simply experimenting in new and creative ways.
All are welcome to come out for free and try out different materials on their candle creations. These candles will make an excellent Easter addition to your home! If possible, please bring along any pressed flowers as resources are limited.
When: March 18, 2023 // 2:00 PM – 6:00 PM
Where: Schwere-Reiter-Str. 2
Cost: Free Admission
Amari Bar 1 Year Anniversary Party
Already celebrating a year in down town Munich, Amari Bar wants to celebrate with you!
Starting at 6 pm, Amari will feature two floors of music with local art and high-grade drinks. Open doors and a reduced entry fee until 8 pm, then the party continues well into the late hours.
Want more after that? Saturday morning brings yoga by Pop-Up Yoga from 9:30-10:30 followed by Katerbrunch to soak up any toxins from the night before.
When: March 18, 2023 // 6:00 PM-Late
When (KaterBrunch): March 19, 2023 // 9:30 AM
Where: Dachauer Str. 90
Cost: Free Admission And Reduced Admission For KunstLabor 2
Munich's strong beer festival period in March is known as "the fifth season." Despite its lesser-known status, it's an important event on the city's social calendar.
Whether you want to dig out your dirndls and lederhosen, get a big ole' maß of that tasty Starkbier or just start singing, we've got the information you need below:
Paulaner am Nockherberg Starkbierfest
When: March 10, 2023 – April 2, 2023
Where: Paulaner am Nockherberg, Hochstr. 77
Cost: €14,90 ( €2 entry plus € 12,90 beer voucher). More info here
Löwenbräukeller Starkbierfest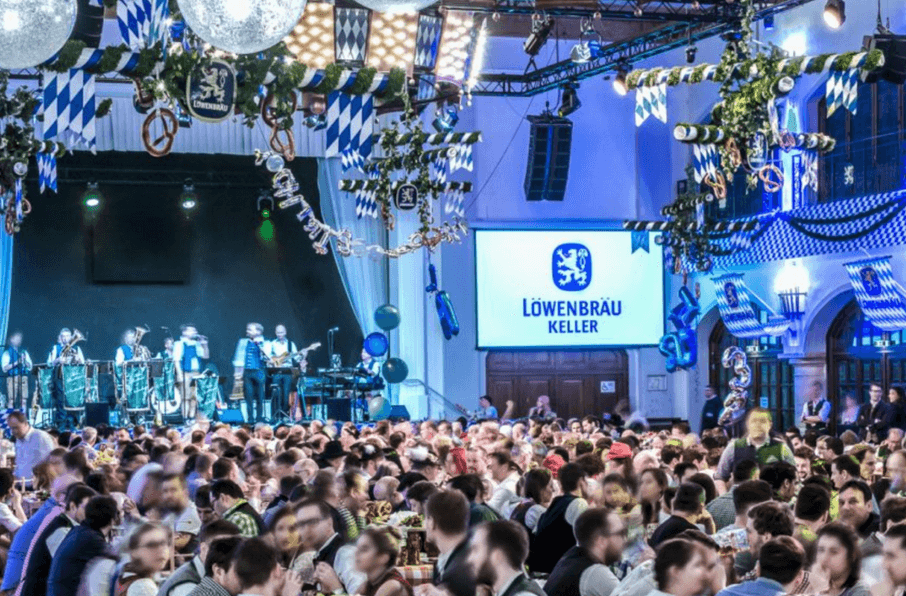 When: March 10,2023 – March 25,2023
Where: Löwenbräukeller, Nymphenburger Str. 2
Tickets: €5 for ticket, €11,50 for a maß of Starkbier Click here for more info.
Augustiner Keller Starkbierfest
When: February 24, 2023 – April 1, 2023
Where: Augustiner-Keller, Arnulfstr. 52
Tickets: €9,80 for a ticket, €9,30 for a mass of Starkbier Click here for more info
Looking For Other Deals or Cool Things to Do in Munich?
We always make sure to keep our event calendar up to date with the latest and greatest upcoming activities. Check it out here if you are interested in more than the few above mentioned events!
If you're still strapped for ideas on things to do this weekend, check out Groupon. If it's your first purchase, you can use the code HALLO to save 20% off any of their local deals, which means you can splurge on cool experiences like restaurants, alpaca walking, and even hot air balloon flights at a steep steep discount. Click here to browse.