*FYI - this post may affiliate links, which means we earn a commission (at no extra cost to you) if you purchase from them. Also, as an Amazon Associate, I earn from qualifying purchases. For the full scoop on what this means, feel free to check out our Privacy Policy and Disclosure.
Hello beautiful bored people of Munich, Hello to Munich Events Weekend 10! The sun is shining and the festivities are in full swing. It's time to make some plans for the next days, and we've got just the list here!
This weekend Munich is saying Servus to the start of the Strong Beer festivals (Starkbierfest), birthday bashes and even the largest St Patrick's parade in all of mainland Europe!
Make plans for your weekend fun by checking out the list below!
Free Events, Activities and Parties This Weekend in Munich
A wide variety of events (some even free!) will be happening this weekend, with activities suitable for all ages. See what Munich has to offer this weekend!
Munich's strong beer festival period in March is known as "the fifth season." Despite its lesser-known status, it's an important event on the city's social calendar.
Whether you want to dig out your dirndls and lederhosen, get a big ole' maß of that tasty Starkbier or just start singing, we've got the information you need below:
Paulaner am Nockherberg Starkbierfest
When: March 10, 2023 – April 2, 2023
Where: Paulaner am Nockherberg, Hochstr. 77
Cost: €14,90 ( €2 entry plus € 12,90 beer voucher). More info here
Löwenbräukeller Starkbierfest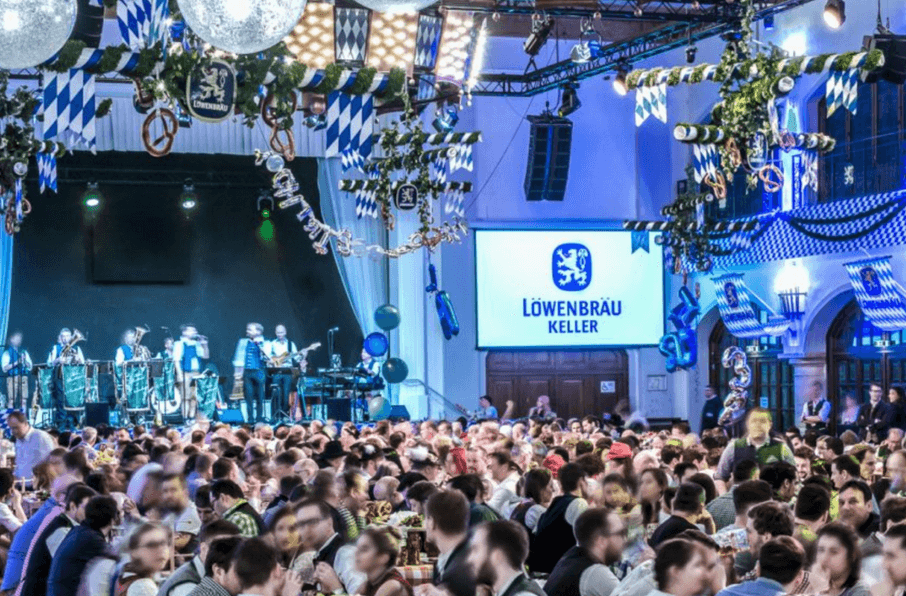 When: March 10,2023 – March 25,2023
Where: Löwenbräukeller, Nymphenburger Str. 2
Tickets: €5 for ticket, €11,50 for a maß of Starkbier Click here for more info.
Augustiner Keller Starkbierfest
When: February 24, 2023 – April 1, 2023
Where: Augustiner-Keller, Arnulfstr. 52
Tickets: €9,80 for a ticket, €9,30 for a mass of Starkbier Click here for more info
The Keg Bar Birthday Weekend
Join in this weekend to celebrate The Keg Bar's 8th birthday with a weekend full of fun parties, tasty specials and the opportunity to win a free KEG!
Munich's Keg bar is a favourite for international crowds due to their friendly open atmosphere, sports showings and dynamite karaoke nights (we can 100% recommend this one).
With a weekend full of festivities, we can't wait to plan it! If you're aiming to win a free keg, be sure to grab your raffle ticket Saturday at 8p.m.
When: March 10-12, 2023
Where: The Keg Bar // Trautenwolfstr. 1
Cost: Free Admission
Munich St Patricks Day Parade And Festival
Enjoy the largest St. Patrick's Day parade in continental Europe by attending the Munich Parade this weekend!
Over the weekend, Munich streets will be filled with dancing, music, and costumes, as well as many Guinness drinkers. Make sure you grab your best green garb and join the festivities on Saturday and Sunday.
You can find the full breakdown of times, locations and events on our fully detailed blog post here!
When: March 11-12, 2023
Where: various locations // main festival at Odeonsplatz on Sunday
Cost: Free Admission
Mercury Disco Party
A disco bash from Lovers Munich and Kunst Block Balve will have you feeling fabulous and dancing all night!
As a pre-party event, at 6pm there will be an art exhibit – fun tip: it's free entry so if you attend the art exhibit you won't have to pay for the party! Then heading into the evening, the party will feature amazing music from the 60s and 70s, as well as a full program of art and performances, drag shows, and so much more.
Find the full details and buy your tickets on their website here
When: March 11, 2023// 10p.m-5a.m
Where: Kunst Block Balve // Friedrich von Pauli Straße 21
Cost: Free Admission at 6p.m // after 10p.m tickets are 16€
Dresscode: Studio54, Disco, Glitter, Glam, Futuristic, Neon, Extravagant – or how you interpret Disco, or as they say 'It is a feeling, not a rule'
25 Hours Hotel Fashion Barzar
This Saturday, March 11th, 25 hours hotel Munich's stunning corridors will be transformed into a shopping promenade. Thirteen fashion bloggers will be selling some of their best pieces from 11 a.m. until 2 p.m.
Get your hands on something glamorous, or take advantage of their €8 drink specials from their special appetizer bar!
When: March 11, 2023 // 11a.m – 2p.m
Where: 25hours Hotel Munich // Bahnhofplatz 1
Cost: 5€ entry
Looking For Other Deals or Cool Things to Do in Munich?
We always make sure to keep our event calendar up to date with the latest and greatest upcoming activities. Check it out here if you are interested in more than the few above mentioned events!
If you're still strapped for ideas on things to do this weekend, check out Groupon. If it's your first purchase, you can use the code HALLO to save 20% off any of their local deals, which means you can splurge on cool experiences like restaurants, alpaca walking, and even hot air balloon flights at a steep steep discount. Click here to browse.