*FYI - this post may affiliate links, which means we earn a commission (at no extra cost to you) if you purchase from them. Also, as an Amazon Associate, I earn from qualifying purchases. For the full scoop on what this means, feel free to check out our Privacy Policy and Disclosure.
Hello beautiful bored people of Munich! Boy oh boy has summer gotten into full swing!
We have so many exciting events and activities throughout the city this weekend, whether you are excited to jump into the enthusiasm of the European Championships or find a good Sommerfest/Open air to dance around at, we've got a great list compiled for you to choose from below!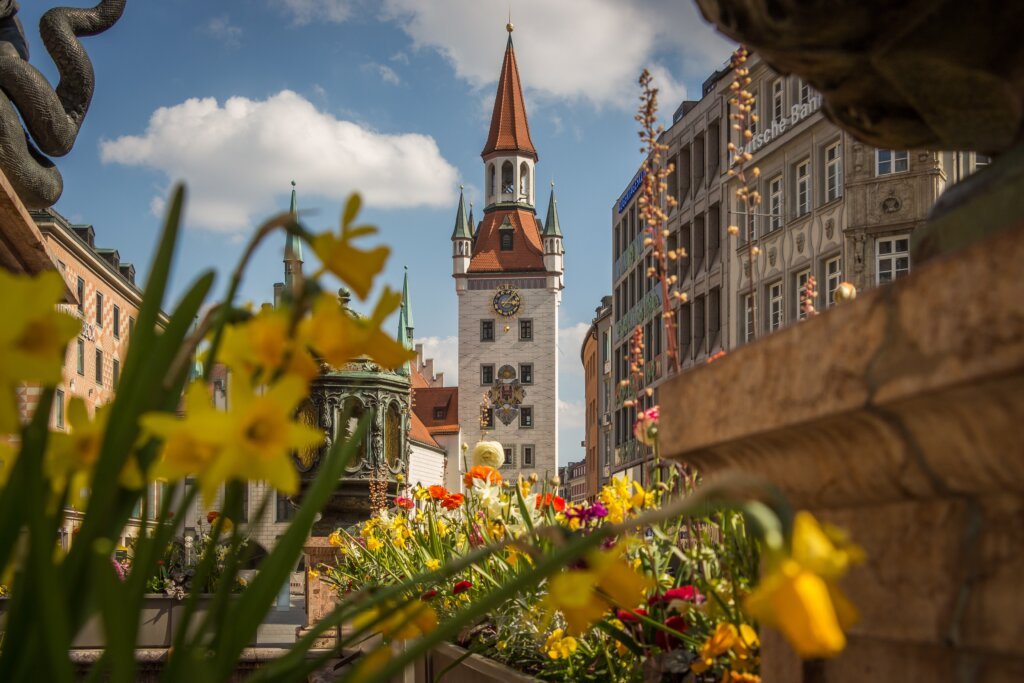 Free Activities, Open Airs, European championships and other Events This Weekend in Munich
Whether you want to enjoy an open air, experience a couple cultural moments or simply enjoy some summer wine, this list of weekend activities in Munich should provide some excellent inspiration!
European Championships Munich 2022 Kickoff Open Air
In celebration of the 25th EACs there are many events you should keep your eye out for. Today, for example, you can enjoy a variety of festivities at the Central Roof in Olympiapark (All free entry of course!)
At 3:15 pm Daisy dream serves a energetic mix of dream pop, show gaze and grunge.
At 4:30 it gets Bavarian real quick (including traditional Bavarian trachten) with members ages 5-60 showing of what tradition means with a modern spin (and some might also dance).
By 8 pm LUNA, the amazing and viral TikTok launched musician, will perform some of her best pieces
The last act of the night will be "ELIF" at 9:15 pm, who most know for her hit single "Highway" feat. Katja Krasavice, giving us a last hurray for the night!
When: August 12, 2022 // Starting at 3pm
Where: Olympiasee/Olympiapark
Cost: Free Admission
Gürmet Wine Pop-up @Village Café
Our favourite wine and meze pop-up is back with a new home!
Bring your friends or simply come and join other wine lovers for some unique tastings at Fraunhofer str. 3 and celebrate all weekend long Gürmet's new home in The Village Cafe!
From Friday and from 4pm to 10pm and Sunday 1pm to 8pm. You can stop by and enjoy a glass of wine or book here for the full tasting experience!
When: August 11-14, 2022
Where: The Village Cafe, Fraunhoferstr.3
Cost: Free entry // costs of wine & food on their website
Oldtimer Rallye '72 Revival
Are you a fan of classic cars? Then Saturday's '72 Revival Old-timer Rallye is the place to be!
This 50 year long tradition is a 'rolling classic car museum' that begins in the north of Germany in Kiel and takes a tour through the country down to its final stop at the Motor World in Freimann in Munich.
You can come experience over 250 drivers in over 175 different old-timers as they cross the finish line
The first car should arrive around 4:30 pm so make sure you don't miss it!
When: August 13,2022 // Starting at 4:30pm
Where: Motorworld Munich, Thalkirchener Str. 66-68, 80337 Munich
Cost: Free Admission!
Bavarian Outdoor Film Festival // Pop-Up Summer Cinema at Fluffy Clouds
There's nothing like watching a movie under the stars… and add a film festival to that and you've got the perfect weekend plans!
The Bavarian Outdoor Film festival is not only an action packed collection great, local sport films but also happens to be the first silent cinema in Munich! Please keep this in mind and remember to bring your ID-card as a holder for the headphones you get during the screenings.
Entry begins at 8 pm and the introduction starts by 9 pm. At 9:30 the movie starts and that's not all! During the break there will be a big give away with prizes worth 500€ in total.
When: August 12, 2022 // starting at 8pm
Where: Fluffy Clouds, Freibad Georgenschwaige
Cost: 10,90€
Another Day Festival at Praterinsel
To close off the summer season, Anotherday wants to bring the heat one last time.
This festival on Praterninsel begins at 3 in the beach area outside but that's not it, at 10 pm they open the vaulted cellar to keep the party going indoors! For those of you electro fans looking to get the party going this weekend, you should make sure not miss out on this!
When: August 13, 2022 // Starting at 3pm
Where: Praterinsel 3, 80538 Munich
Cost: Ticket prices range from 12€-17€
Sunday Sommerfests
For those of you looking to dance your way into the new week, here is a list of Sommerfests happening in Munich this Sunday!
Let's set sail to celebrate the end of the week with good music and even better vibes!
There will even be henna tattoos, a face paint station (for children) and some great live poetry.
When: August 14, 2022 // starts at 11:30am
Where: Alte Utting, Lagerhausstraße 15
Cost: Free Admission
Their Motto is "Sip good drinks" and "feel good music" and we couldn't agree more!
Kick off the fun with some Free Pina Colada Sushies AND ice cream (until gone) and a 2 for 1 Drink special from 3-5 pm. Sounds like the perfect summer dream to boost you into the new week.
When: August 14, 2022 // 3pm-1am
Where: Sommerquartier, Alter Hof 3
Cost: Free Admission
The "Pre-Holiday-Party" you don't want to miss out on, with 3 different areas, indoors and outdoors, this is great spot for all hip hop lovers this summer!
Get your Tickets early for 8€ or for 15€ at the box office, but make sure you still get some!
When: August 14, 2022 // 4pm-5am
Where: Cafe Kranich // Sonnenstraße 19
Cost: Ticket prices range from 8€-15€
Looking For Other Deals or Cool Things to Do in Munich?
We always make sure to keep our event calendar up to date with the latest and greatest upcoming activities. Check it out here if you are interested in more than the few above mentioned events!
If you're still strapped for ideas on things to do this weekend, check out Groupon. If it's your first purchase, you can use the code HALLO to save 20% off any of their local deals, which means you can splurge on cool experiences like restaurants, alpaca walking, and even hot air balloon flights at a steep steep discount. Click here to browse.