*FYI - this post may affiliate links, which means we earn a commission (at no extra cost to you) if you purchase from them. Also, as an Amazon Associate, I earn from qualifying purchases. For the full scoop on what this means, feel free to check out our Privacy Policy and Disclosure.
Spooky season is just around the corner, and with it comes a multitude of fantastic free October events in Munich!
Ready to hear about all the fall-tastic free fun coming up in our favourite cozy city? Then keep on reading!

Hidalgo Festival
This audiovisual installation, inspired by Gustav Mahler's "I am lost to the world," creates immersive artistic spaces in 12 different locations across Munich.
Visitors wear sound-neutralizing headphones in dimly lit rooms, experiencing a 7.5-minute performance that offers solace during challenging times.
When: October 2 – 9 (Oct 1 is canceled due to illness) // 2 p.m. – 8 p.m.
Where: Oct 2 – 3 : Giesinger train station
Oct 4 – 6: Laimer Anger
Oct 7 – 9: Bunzlauer Platz
Swing The Biergarden
Exactly what it sounds like! Swing comes to the Beergarden on Tuesday afternoon, with music performed by the Roaring Zucchinis.
Enjoy an afternoon of drinks, good company and live swing music, hope to see you there!
When: Tuesday, October 3 // 1 p.m.
Where: Gyßlingstraße 15
Clothing Swap Party
Is your wardrobe full of clothes you don't wear anymore? Or do you maybe want to give your favorite closet an update?
Then head to the clothing swap party and upcycling workshop! You can bring up to 10 clothing items, and if you can't bring anything to swap, that's okay too!
When: Thursday, October 5 // 5 p.m. – 9 p.m.
Where: Am Kartoffelgarten 18
Music Flea Market
Seize the chance to declutter your practice space! Remember that old mixing console or the amplifier you upgraded ages ago? Maybe even some untouched instruments by the less musically inclined in your household?
It's your opportunity to let go of all that clutter! Any noise-making or melodic items are welcome. Please reserve a table with Stella beforehand (stella.morosoli@glockenbachwerkstatt.de), an auction and jam session will follow the flea market!
When: Sunday, October 8 // 4 p.m. – 8 p.m.
Where: Blumenstrasse 7
Sewing Workshop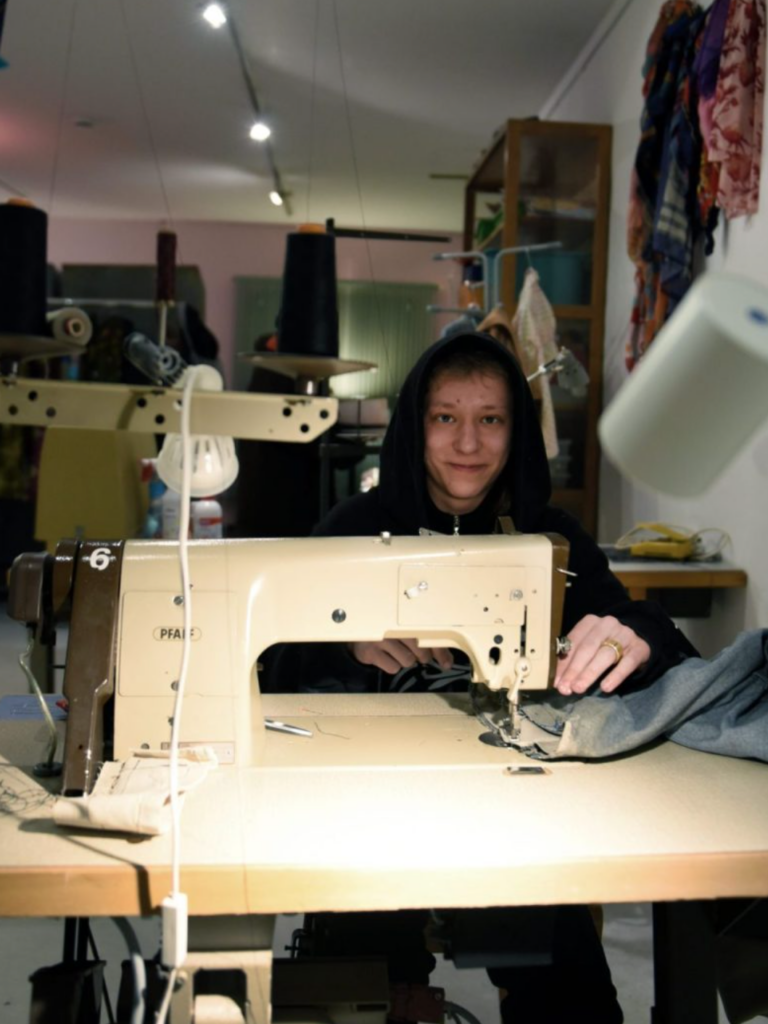 Do you enjoy sewing and want to connect with others who share your passion? Then join the Sewing Community at the Färberei sewing workshop!
Twice a month, on Tuesday evenings, the sewing workshop opens its doors to use the workshop space together with others. This event is meant for those already familiar with sewing.
A small contribution to cover space and material usages is requested: Under 27 years: €5 | Over 27 years: €10 (If you are unable to afford the contribution, please contact us at oe_werkstatt@kjr-m.de)
When: Tuesday, October 10 & 24 // 6:30 p.m. – 9:30 p.m.
Where: Claude-Lorrain-Straße 25
Salsa Night
For the first hour, take part in a crash course with Salsamás dance professionals for a glimpse into the world of salsa.
Then enjoy a lively salsa party with DJ David Munoz, suitable for dancers of all levels. Experience the unique atmosphere of this exceptional dance floor or observe from the elevated galleries of the protected Hall E.
When: Thursday, October 12 // 7 p.m. – 12 a.m.
Where: Gasteig HP8
American Football Public Viewing
Come out and watch the Baltimore Ravens take on the Tennessee Titans for some Sunday afternoon American Football!
While the game doesn't start until 3:30, doors open at 3 so make sure you come early to grab a seat!
When: Sunday, October 15 // 3 p.m.
Where: Reitknecht 6
After Work Kino
Come enjoy selected films off the mainstream path for a film-loving audience. To kick off the eventing there is a pre-film at 6:30, which is a surprise, and at 7:30, they will screen the main film: LA LA LAND. Doors open at 6.
When: Thursday, October 19 // 6:30 p.m. – 11:45 p.m.
Where: Westendstr. 76
Bingo Quiz Night
Bingo is back at Substanz in October! You can celebrate it with style: using their nostalgic bingo machine and all the trimmings! Reservations are highly recommended as the space fills up fast! (Reserve via: https://bit.ly/fritzkolabingonight1025).
Classic 15 out of 90 version is played at Substanz. 1 Bingo Game Card wins a drink, 2 Bingo Game Cards gets you a Mischwerk Special, and 3 Bingo Game Cards earns you a pizza!
When: Wednesday, October 25 // 6 p.m.
Where: Ruppertstraße 28
Halloween for Kids
Halloween is just around the corner! Come by to show off in the a costume competition, brave the spider web maze, and get creative by making lanterns and painting. Test your skills with can throwing, and don't miss the awards ceremony at 7:30 p.m.
While the kids have a blast, parents can relax in the barn with a variety of pumpkin dishes, Bavarian delicacies, and homemade cakes and tarts.
When: Sunday, October 29 // 3 p.m. – 8 p.m.
Where: Garchinger Weg 72
Looking For More Information About Free October Events In Munich?
Feel free to ask below and we'll try to get an answer back to you! And be sure to check out our Instagram & TikTok for more content coming up!