*FYI - this post may affiliate links, which means we earn a commission (at no extra cost to you) if you purchase from them. Also, as an Amazon Associate, I earn from qualifying purchases. For the full scoop on what this means, feel free to check out our Privacy Policy and Disclosure.
Halloween is fast approaching, and if you're still losing sleep over what lazy/cliched costume to bust out this year, we have you covered.
Below is a roundup of original, Munich-inspired costumes that will make you the star of whatever Halloween party you decide to crash (before the eerie silence of All Saint's Day). Best of all? These can all be pulled together quickly. Enjoy!
1. The KVR
Live in Munich for any period of time, and you're sure to encounter the KVR…. aka everybody's absolute favourite. If you want to dress up as something truly terrifying this Halloween, look no further.
What you'll need for this Munich-inspired Halloween costume:
Long sleeve shirt
Print out of letters "KVR"
Multiple printouts of people waiting in line (this one would do)
Instructions:
Glue the letters "KVR" onto your shirt
Print and cut out many copies of people waiting in line, then liberally glue or tape them along your shirt, winding down to the bottom of your leg if you want to be extra dramatic
For bonus points, be thoroughly unhelpful and when people try to talk to you, tell them they don't have an appointment and to try again in 6 weeks
2. Oma Polizei
Ah, the oma polizei, where would Munich be without them? The grumpy old ladies that feel the need to watch your every move from their windows, and judgementally stare you down when you breathe too loudly on the U-Bahn. Pay tribute to these Munich golden girls with this easy DIY outfit.
What you'll need for this Munich-inspired Halloween costume:
A grey old lady wig like this one
Nightgown
Black leather jacket (like the Munich polizei wear)
Adhesive letters
Instructions:
Glue the letters "OMAPOLIZEI" on the back of your leather jacket
Put on the nightgown, wig and leather jacket on top
Spend the night scolding people for talking too loud, what they're wearing and just hang out by the window, judging everyone that walks by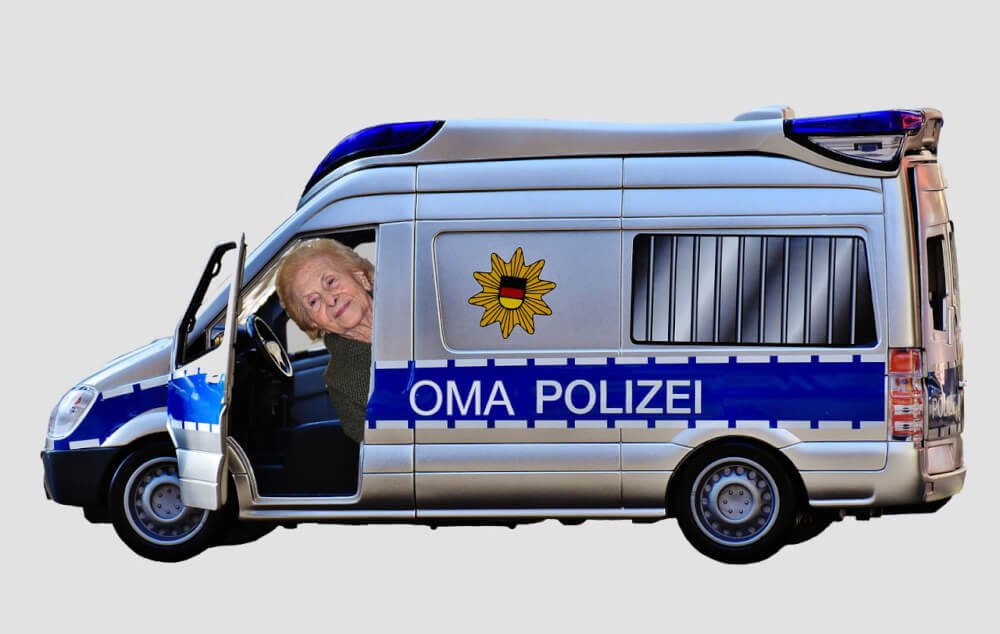 3. Eisbach Surfer Late for Work
Munich's Eisbach surfers are world-famous, squeezing in a quick surf whenever they can, on weekends, at night, and for some, even before work. Honour these Munich legends with an easy costume that shows what reality is like when you've got a 9-5 but still needa get your surf on.
What you'll need for this Munich-inspired Halloween costume:
A wet suit
Business clothes (e.g. dress shirt + tie)
Instructions:
Put on your dress shirt and tie
Put on your wetsuit, leave it half down
Keep looking down at your watch, panicked, throughout the night
4. Pass-out Hill
Dress up as Munich's saddest spectacle this Halloween with an easy Pass-Out Hill costume!
What you'll need for this Munich-inspired Halloween costume:
A long sleeve green top like this cheap one
A bunch of tiny toy people
Little printed photos of trachten
Instructions:
Glue your tiny toy people randomly onto your top – the weirder the positions the better
Print out some pictures of dirndls/lederhosen off the Internet
Cut and glue dirndl/lederhosen pics on top of your tiny toy people
For dramatic effect, glue on some cartoon puddles of spilled beer, vomit and fragments of dignity on there
5. Undercover ticket inspector
This one is for the truly lazy Halloween partyer. Simply wear normal clothes, and when people ask you why you didn't dress up, show off your little black murse thing under your jacket and demand to see a ticket.
What you'll need for this Munich-inspired Halloween costume:
Regular clothes
Black rectangular shoulder murse thing like this one
Little ticket book so you can hand out fines
Instructions:
Wear a black murse under your jacket
Keep a ticket book in your pocket
Put on jacket
Demand to see tickets from random people when they ask why you're not dressed up
Maybe shout "SCHWARZFAHREN IST VERBOTEN" a few times for good measure
6. Brotzeit
Everybody's favourite snack! Who wouldn't want to be your friend if you dressed up as brotzeit? All the better if your costume contained real, actual snacks.
What you'll need for this Munich-inspired Halloween costume:
Pretzel costume
OPTION A: Clear ziplock bags + your favourite brotzeit snacks (e.g. salami, obatzda, mini pretzels, etc.)
OPTION B: Paper/printed cutouts of your favourite brotzeit snacks, or ones made out of felt
Regular top you don't mind getting ruined/stuff stuck on
Fabric glue like this
Instructions:
If doing OPTION A (Real snacks), glue ziplock bags onto your top and fill them with your favourite brotzeit items. That's right, you're hauling salami into the club (not a euphemism)
If doing OPTION B (fake snacks), cut or print out your favourite brotzeit snacks and glue them to your top
Put on pretzel head costume
Watch as drunk people are amazed by your costume
7. Your favourite beer of the Big Six
Last but not least, Munich's famous breweries are the city's pride and joy. Why not take your beer worship to the next level by dressing up as your favourite beer?
What you'll need for this Munich-inspired Halloween costume:
Beer costume (like this one)
Print-out of your favourite brewery logo
CHEAP ALTERNATIVE: Buy a beer hat like this one and attach a logo to that instead of a full-size beer costume
Print out a big version of your favourite brewery logo
Cut it out and glue it on your beer costume or beer hat
BONUS POINTS: Load a backpack with an actual keg and pour beers for people. You'd be the most popular human in town
Any other ideas for Munich-inspired Halloween costumes?
Throw them in the comments! Have an awesome Halloween!