*FYI - this post may affiliate links, which means we earn a commission (at no extra cost to you) if you purchase from them. Also, as an Amazon Associate, I earn from qualifying purchases. For the full scoop on what this means, feel free to check out our Privacy Policy and Disclosure.
Trying to find the best batch of Munich Pumpkin Patches? Gourd news, we've got the perfect list of locations for you this fall!
Whether you are looking for the perfect pumpkin to carve, a wonder-fall spot for your seasonal photo shoot or just to embrace your best basic life, we went out on the hunt to gather your go-to autumn guide
Whatever you dream of doing at the pumpkin patch this fall, we've got the best pumpkin patches near Munich picked out for you to check out!
Habeker Hof (in Haar)
This lovely sustainable pumpkin patch is located in the Habeker Hof in Haar, which is conveniently reachable with the Sbahn!
This fantastic pumpkin field has both edible and decorative pumpkins, more than 100 different varieties to be exact. Grown with care and sustainability in mind, this family farm also offers a great variety of other seasonal vegetables to select and some great inspiration for your next fall feast.
Their pumpkin patch is open for visits from the end of August until mid November.
Address: Habeker Hof, Gronsdorfer Str. 22, 85540 Haar
How to get there: The best option is by Sbahn with either the S4 or S6
Hausler Hof (In Hallbergmoos)
Hausler Hof is close to the Sbahn stop Hallbergmoos making it an ideal adventure option for those seeking to get carried away in some pumpkin patch-filled bliss.
The farm store's Friday offerings include a wide variety of other fresh vegetables that you can admire or buy to bring home. They also have a recommendable restaurant there where you can enjoy some super tasty seasonal snacks (the ideal edible day trip in our minds).
Their opening hours are a bit limited, with weekly openings being Fridays from 9:30am to 2:30pm. However, if you have the time, we doubt you'd be disappointed!
Pro Tip: They have an annual Erntedank Festival in October that you won't want to miss!
Address: Hausler-Hof, Garchinger Weg 72, 85399 Hallbergmoos
How to get there: Get there best by Sbahn, just take the S8 to the stop Hallbergmoos
Hofgut Sickertshofen (In Dachau)
Looking for more than just a patch of pumpkins? Luckily for you, in the fall this fabulous farm estate turns into the perfect pumpkin paradise!
With a huge selection of freshly harvested pumpkins and a beer garden filled with delicious food & drinks, we'd say this spot is essential!
They have an annual pumpkin festival in September, but for those of you looking to browse their selections in other fall times, you can check out their website for the most recent details
Address: Hofgut Sickertshofen, Sickertshofen 1, 85247 Schwabhausen
How to get there: You can go with Sbahn by taking the S2 to Schwabhausen
Stroblhof (In Germering)
If your pumpkin patch aim is focased on the perfect fall photoshoot location, Strobl Hof would be your best bet.
The easily accessible location and aesthetic organization is one of our favourites on this list! And aside from their awesome Autumn appeal, this farm is also a fantastic place to get your Christmas tree in the coming months!
Address: Augsburger Str. 10 (Ecke Untere Bahnhofstraße/Kirchenstraße) 82110 Germering
How to get there: You can go with the Sbahn, by taking the S8 to Germering-Unterpfaffenhofen
Asenkofen (In Freising)
Whatever type of pumpkins you're on the hunt for, Asenkofen is the perfect patch!
This family farm grows over 125 different pumpkin varieties! From the well-known varieties Hokkaido and Butternut to Pink Banana, Delicata, spaghetti squash and nutmeg pumpkin to exotic varieties such as Tetsukabuto, it is a true adeventure in Pumpkinland.
Sure this spot is a bit more of a day trip, but with their home-made apple juice, honey and sublime scenery, it's just something you Autumn do this fall!
Address: Asenkofen 1, 85416 Langenbach
How to get there: From Hauptbahnhof you can take the regional trains. The RE2 to Freising and then transfer with the RB33 to the stop Langenbach
Obsthof Knab (Multiple Locations In Munich)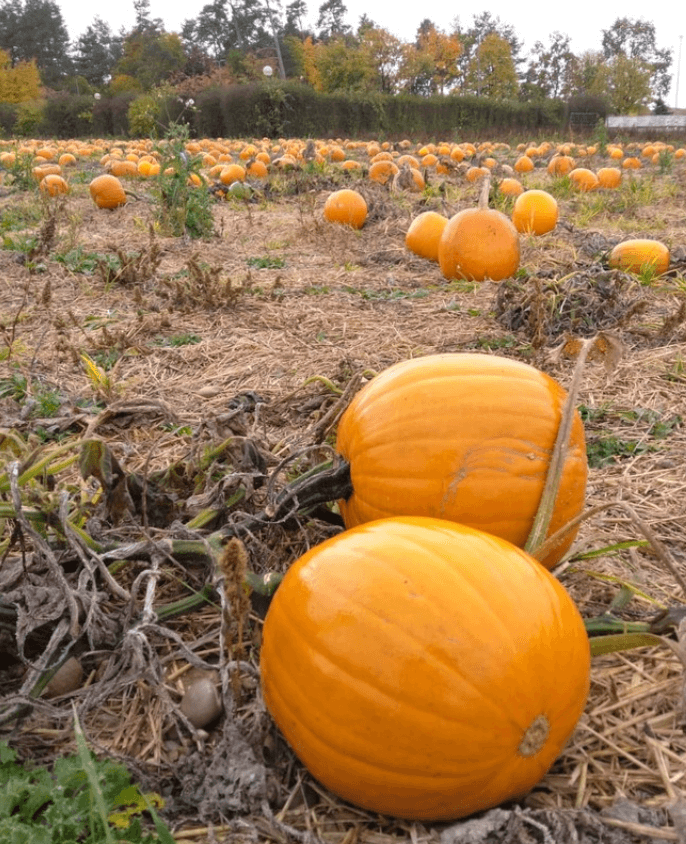 Lastly on our list is one of the great and unique Munich agricultural attributes; the many pick it yourself farms fields!
Obsthof Knab is not only a northern Munich pumpkin patch, but a variety of pumpkin patches around the city! These pumpkin patches are open 24/7, run by self payment and crazily enough, they accept Paypal! Just please pay honestly to support our local farmers!
Address: Multiple locations // See their website here!
Any Other Munich Pumpkin Patches We Should Add To The List?
Let us know in the comments! And if you want more Autumn inspiration to fall into, have a look at our Instagram & TikTok for more!