*FYI - this post may affiliate links, which means we earn a commission (at no extra cost to you) if you purchase from them. Also, as an Amazon Associate, I earn from qualifying purchases. For the full scoop on what this means, feel free to check out our Privacy Policy and Disclosure.
Still searching for the perfect menu for your Munich Valentine's Day dinner? If you're looking for a special evening, we've got a list of wonderful locations with special menus to make your evening something to remember!
Our list below is sure to have everything you need, whether you're looking for a delicious flavourful evening, a romantic, remote date or to explore new restaurant territory!
Seehaus
The English Garden is a romantic setting for celebrating love! Seehaus has a superb 4-course menu panned for a memorable evening in a cozy, lake side ambience.
Seehaus will kick off your dinner date with an appetizer of fresh tuna paired with cucumbers and rose petals is followed by a lobster cappuccino.
Their main course will be guinea fowl served with polenta, truffles, and sweet love pearls. And to finish the meal, a sweet treat of lime and hazelnut dessert topped with milk foam and popcorn.
Where: Kleinhesselohe 3
Cost: 65€ per person // Find more details on their website here
Sir Helga
If you are craving a location with a more regal flair, where flora and fauna meet fine marble, shimmering velvet, and matte gold. With a special four-course menu, Sir Helga is sure to impress.
Two separate menu options allow you to choose between a little surf and turf or a completely plant-based meal. There are goat cheese and pumpkin starters as well as mussels and saltimbocca or tofu and pumpkin polenta as main courses.
Whether you choose an apple tarte tartin or a portwine and plum chocolate sorbet to end your romantic meal, you are sure to make the evening sweet and memorable.
Where:  Mariannstr.3
Cost: Regular option 58€, Vegan option 50€ // Find more details on their website here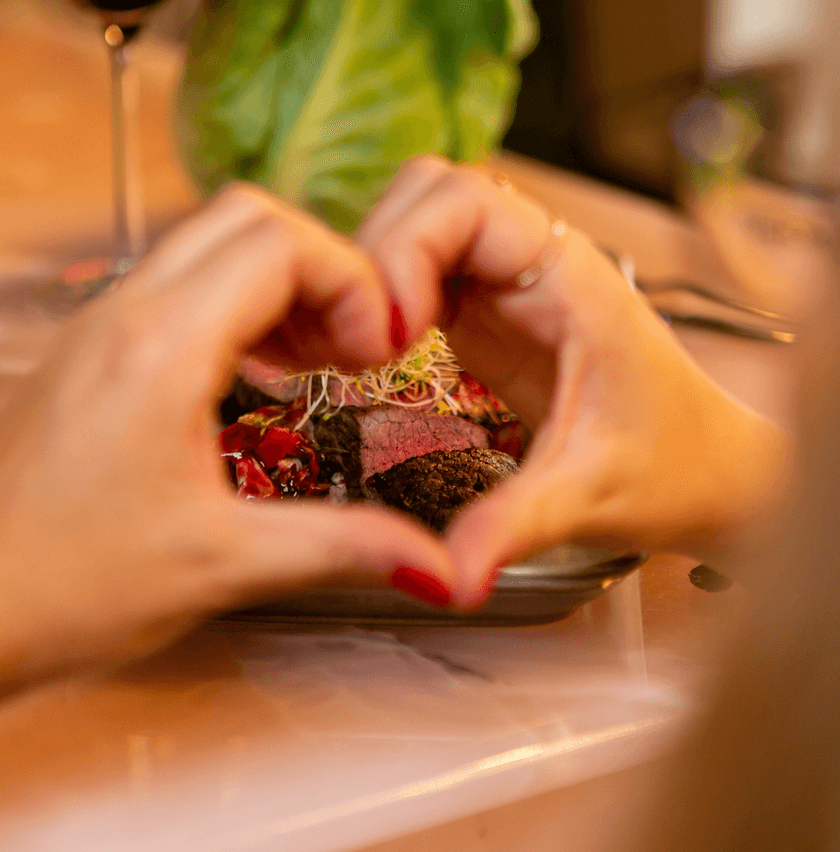 Schmock
Looking to add some spice to your Valentine's date? How about a fresh feast at one of Munich's best Israeli restaurants; Schmock!
Among the house's dishes are Jaffa shrimp with red beet hummus, Zataar, and pita. A vegetarian option is available as well, featuring vegetable Cigarim with red beet hummus Zataar and naturally fresh pita.
The second course will be Baked Cauliflower with Pine Pomegranate Salsa, and the main course will be SumSum Tuna Sashimi with Mango Avocado Tartare. Dessert will be met with the extra tasty medjou date kaiserschmarrn.
Where: Tumblingerstr.20
Cost: €59 with meat or 50€ Vegetarian // Find more details on their website here
Fitzroy
Looking for a romantic Valentine's Dinner with a view? If that's the case, Fitrzoy would be a a perfect pick for you!
The rooftop restaurant and bar located in Werksviertal is one of the city's secret gems. In a calming, chic atmosphere, you can indulge in delightful modern Australian cuisine that is both tasty and beautiful.
On Valentine's Day, they're offering a special three-course meal. A couple of signature drinks are also available (there are also non-alcoholic options!) and there are vegetarian and meat-based options.
Where: Atelierstraße 22 (14th floor of WERK4)
Cost: 84€ per person // Find more details on their website here
The Lonely Broccoli
On Valentine's Day, why not go to the steak house? The Lonely Broccoli is a definite must-try!
There's a 3-course menu for you and your Valentine to share at the chic Modern Meat House in the luxurious Andaz Hotel at Schwabinger Tor.
Valentine's appetizers, crab cocktails, and prime cuts from Josper Grill are featured along with side dishes and sauces to share. And for dessert, there will be a sweet selection from their delicious dessert cart!
Where: Leopoldstr. 170
Cost: 59€ per person // Find more details on their website here
Giorgia
Giorgia Trattoria is also a hot spot for Valentine's Day. With a special Valentines Day menu created by both Michelin-starred chef Michael Dyllong and Chef Michelangelo Primoconforti.
The Asian-Italian fusion dining experience begins with the Amuse Bouche, followed by Frutti di Mare at radish, salted tomatoes, and Wasabi, and the vegetarian choice of tamagoyaki ravioli with artichoke and parsley.
With red wine onion, celery, beet, and red steakcca Spessa di Scamone are served as the main course. Pannacotta with carrot, white chocolate, and dill followed as an extra creative treat.
Where:Weißenburgerstr.2
Cost: €69 per person (without drinks)// Find more details on their website here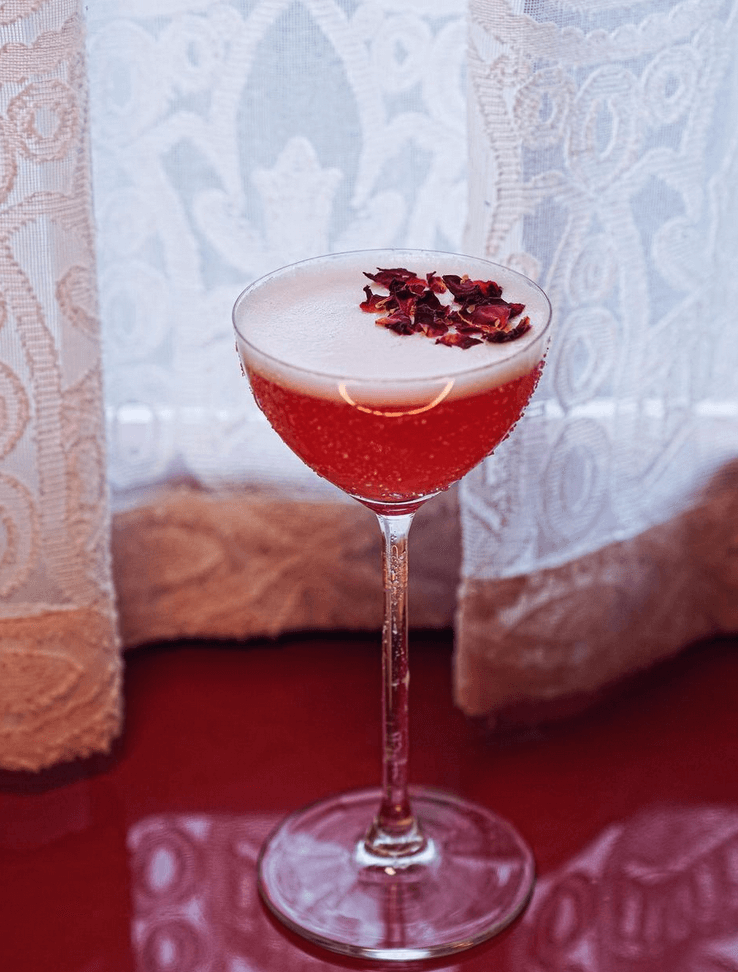 Enter The Dragon
If you are interested in taking your date on a trendy cuisine trip for the night, Enter The Dragon at the Lenbachplatz has just what you need.
In their enchanting interior you can find a special 5 course Valentine's Day sharing menu with an equally unique taste, at (in our opinion) a pretty enchanting price point.
There is pan-Asian cuisine to choose from, including dim sum in various variations, Argentine red shrimp, salmon ceviche, grilled Cherry Valley duck, and mochi with coconut and peanuts.
Where: Lenbachplatz 1
Cost: 69€ per person or 78€ including a glass of champagne // Find more details on their website here
Any Other Munich Valentine's Day Dinner Menus We Should Add To The List?
Let us know in the comments or if you are interested in more of course make sure to check out our Instagram & TikTok!