*FYI - this post may affiliate links, which means we earn a commission (at no extra cost to you) if you purchase from them. Also, as an Amazon Associate, I earn from qualifying purchases. For the full scoop on what this means, feel free to check out our Privacy Policy and Disclosure.
If there is something that unites many of us Munich locals, it is our love for frische Luft, staying active, and the great outdoors. This makes the current exit restrictions particularly hard for those of us that are used to going to the gym to sweat it, hopping on a train to go hiking, or gathering with friends by the Isar to get some much-needed vitamin D.
Thankfully, Ceri from 4 Elements EU, and Simon from Evolve Fitness have plenty of tips to keep your mind, body, and soul in tip-top shape… even during the era of social distancing.
Read on for some tips from local fitness experts on how to stay healthy.
Wellness Tips for the Mind
1. Start your day with mindfulness
Remember: you want the first thing you do in the morning to leave you feeling calm, positive, and energized.
So, consider starting your day with a cup of tea and a good book, getting out for a little stroll, or meditating. Decide this the night before and get everything ready so you can wake up and get going to avoid any temptation from your brain to start working on other tasks
2. Avoid the news/ social media
During this time, when news can be particularly troubling, you want to ensure it won't set the tone for your whole day or disrupt your workflow.
So, for the first part of your day, consider distancing yourself from news and social media, and instead set aside specific times for these activities.
3
.

Learn something new

Perhaps due to a reduced commute time or workload, you may find a bit of extra time on your hands. That doesn't mean you need to cram every activity you've always dreamed of doing, but it is an excellent opportunity to try to learn something new.

Here are some ideas:
Browse free digital collections.

The Munich Library

(Stadtbibliothek) has recently made its entire digital collection free to access for three months, so take advantage of it!

Brush up on your German. There are tons of ways you can do this from home. For instance, if you're going to read the news, you might as well

read it in German.

Alternatively, you can sign up for an online course, watch

YouTube lessons

, or find a buddy and practice German together online.
4. Keep a journal
Writing down your thoughts, feelings, ideas, and emotions during this time can be a very therapeutic experience. Not only does it help you rationalize some of your fears, it also allows you to process things in a healthy way. So, consider adding journal writing to your daily routine.
If anything, it will make a great read years from now when we are all looking back at this time.
5. Get that Frische Luft!
Lastly, remember that even with these strict exit restrictions, you can still go outside.
So, take some time to go for a walk and explore nature in your neighborhood. This is your chance to watch spring blooming in action. Bring your camera or a notebook to journal and capture the changes and any birds or plants you see.
For some added calm and awareness, you can try Ceri's mindful outdoor exercises to activate the mind, body, and soul below:
Go for a walk, and as you walk, tune into your senses… Try to notice:
5 things that you can see

4 things that you can hear

3 things that you can physically feel

2 things that you can smell

1 thing that you can taste
NOTE: Remember that although you can go outside, you should make sure you are sticking to your local area and avoiding group gatherings/proximity to other people.
Wellness Tips for the Body
6. Plan your meals and portions in advance
Working from home can be dangerous due to the proximity of your "office" to the kitchen.
Simon recommends taking some time to plan out your meals for the day – or better yet, the week. Make a list and stick to it, ensuring you're only buying what you need and less of those sweet and salty snacks. Shopping less frequently will also help you to maintain social distancing during this period.
7. Schedule your meals and snacks
Keeping a regular schedule will help your body learn cues on what it really needs and help with overall digestion, which is why you should actively try to schedule your meals and snacks in advance, in addition to planning them.
Here's an example of a schedule you might make for yourself:
When you wake up, have coffee or tea and a light snack (if you're not a big breakfast person)

Get through some emails before taking a break for another light snack

Attend those Zoom or Skype meetings, then take a break for lunch

During that afternoon energy slump, take another little break to go for a short walk (by yourself) and have a piece of fruit

Smash through those last few hours of work, and then finally try that healthy "always been meaning to try but never had time" recipe you've saved on Pinterest
8. Drink plenty of water
A lot of times, your brain will tell you "snacks!" when your body really just needs some of that high-quality H2O.
To ensure you're drinking enough water, keep a large glass or bottle of water next to you while you work and keep sipping regularly. This will help keep your body and mind functioning properly.
9. Try online fitness classes
Now more than ever, it is essential to stay active because our bodies need regular movement and a healthy eating routine. You'll soon start to notice if you haven't already, that you might not feel the same without exercise or daily movement.
Well, if you're looking for some home fitness inspiration, Evolve Fitness offers all of their regular classes online to comply with social distancing regulations, including HIIT, Boxing, Yoga, Pilates, specialty classes for Moms and Babies, or hikers. Classes are offered in English via live stream and are designed to keep you mentally and physically engaged.
If you're a bit unsure, then head over to Evolve Fitness at Home and enter code "evolvetogether" to book a FREE class.
https://www.instagram.com/p/B-U6d8kI6nK/
10. Get ready for the hiking season
For many of us, April is the time we start putting our skis away and thinking about hiking… and while we might have to pass on sunny escapes from the city for now, that doesn't mean you can't get in shape and ready for hiking.
How can you prep for hiking even when you're at home? Well, you can sign up for Trail Fit, which offers circuit classes (currently online) focused on fitness for hikers. You can also combine this prep by pre-booking a series of day hikes or multi-day hikes to test your fitness. Right now, you can save your spot without paying until the hike is guaranteed, which means no pressure commitment.
Of course, in the meantime, you can also prep with other activities like polishing your boots, waterproofing your gear, or cleaning your backpack.
Remember: Please only travel to hike when it is once again safe. As the Germans say, "Der Berg is Kein Frosch," the Mountain is not a frog. It will still be there when this passes, and it will taste all the sweeter.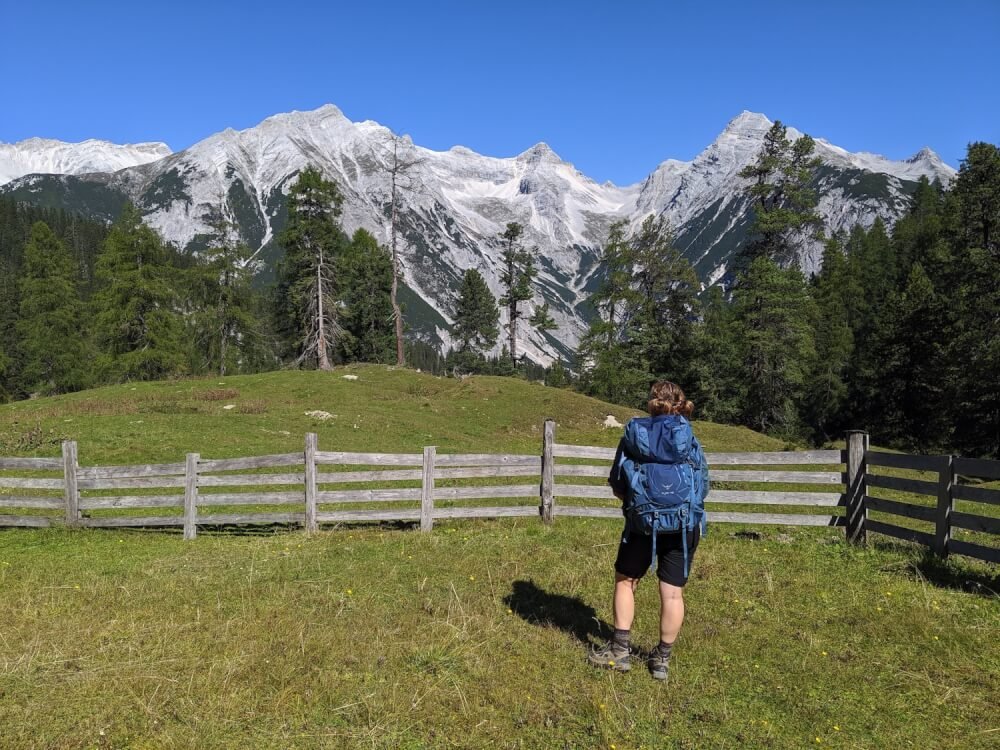 Wellness Tips for the Soul
11. Connect with others
Even for us introverts, social distancing can be challenging, and perhaps the thing we miss the most is a bit of social connection.
If you miss connecting with others, consider joining community groups with similar interests in health and fitness. Meetup is a great place for this. Check out Munich Women's Sport Wellbeing and Happiness for events like Meetup Teatime Talk, which connects international women in Munich with chats based around fitness and fun. Chances are there is a group for your interests, just have a look and connect with some like-minded locals.
12. Do something for others in Munich
Last but not least, one wonderful way to connect during times like these is to get involved in the local community. If you are feeling fit and able, then there are ways that you can help support the elderly or at-risk groups.
The various organizations coordinating help and volunteering opportunities can be found here on the Munich city website.
So: What are your tips for staying fit?
What have you been doing to keep your mind, body, and soul active and healthy during this time? Let us know in the comments!