*FYI - this post may affiliate links, which means we earn a commission (at no extra cost to you) if you purchase from them. Also, as an Amazon Associate, I earn from qualifying purchases. For the full scoop on what this means, feel free to check out our Privacy Policy and Disclosure.
Ah, Valentine's Day, a day of hearts, roses, chocolate and hey, if you're in Munich, unveiling NEW STARK WHITE SPORTS ARENAS.
Yep, that's right – Olympiapark is getting a new arena, a shiny multi-functional sports venue that'll act as the new home for FC Bayern Basketball and the Munich Red Bulls ice hockey team! The secret was announced at a special Valentine's Day press conference today, which explains this very confusing press photo we found of Munich's mayor angrily wielding a rose:
So, what's the deal with this new arena?
The jazzy (still unnamed) arena will be built in the Olympic Park where the Olympia-Radstadions were. SAP has already secured naming rights, and they'll be choosing the name in a thoroughly 21st century way: an online competition! The prize is sweet though – an exclusive seat in the arena for a full year. More details here – submissions will be taken until March 4!
Heading the project is Danish architectural firm 3XN in collaboration with the landscape architects LATZ + PARTNER, and guys, it's gonna be yuuuge. This new 62,500 m² arena will not only have an 11,500 seat capacity, it'll also have three covered ice rinks, a giant green roof, underground parking, eleven boxes with about 156 seats, and we assume lots of places to buy snacks.
Yay, snacks!
Here's a fancy rendering so you can imagine yourself eating snacks here: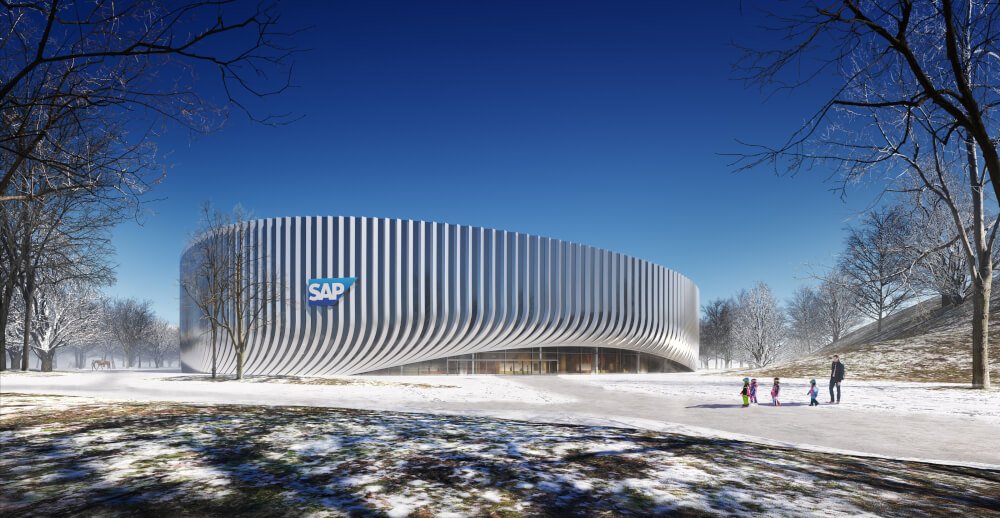 When will it open?
They're aiming for a late summer 2021 opening date, but that's a while away so who knows. That'll give us a solid few years to decide whether we love or hate the design. It's definitely modern, much like the rest of the Olympic Park, but…. hmm… we're still undecided. What do you think?