*FYI - this post may affiliate links, which means we earn a commission (at no extra cost to you) if you purchase from them. Also, as an Amazon Associate, I earn from qualifying purchases. For the full scoop on what this means, feel free to check out our Privacy Policy and Disclosure.
If there's one thing we seriously miss from home, it's the heartiness of a good, hot breakfast. Don't get us wrong, yogurt and muesli are cute, and we definitely can't complain about cold cuts, cheese and sweet Brötchen, but sometimes (okay, often times), we get hit with a mad craving for eggs, bacon and giant slabs of syrup-soaked pancakes.
… That's why we were so excited to discover the glory of Mr. Pancake.
Mr. Pancake: A Quick Overview
Mr. Pancake is one of those places that stays true to their name – they serve up pancakes… and they're darn good at it. After resounding popularity at their first location (Gabelsbergerstraße 34), they opened up a second location close to the Isar on Emil-Riedel Str.21. This is the location we visited.
Food at Mr. Pancake (Emil-Riedel Str. 21)
The menu at Mr. Pancake is simple – they do American-style pancakes with both sweet and savoury options. You can go for the Mr. Bacon, which comes with 4 slices of bacon, 2 eggs, 3 pancakes and a delicious little tin of syrup, you can get the Mr. Vegetarian, which comes with yogurt, cucumber, tomatoes and cheese or otherwise choose from a variety of sweet toppings like Nutella, bananas, and fresh blueberries.
No matter what you choose though, the real star is the almighty pancake. Three fluffy pancakes that are fried to crispy perfection on the outside, with a hefty dusting of powdered sugar on top. Oh, and you get a cute little flag in your pancake too, because #Murica.
For our visit, we had the Mr. Bacon (as described above) and the Mr. Sausage (same, but with sausage instead of bacon). Both were delicious and super filling. The pancakes were an amazing texture, and by far the best American style pancakes we've eaten in Europe. Plus, getting that sweet syrup over perfectly fried eggs and bacon? Mmmm mmm.
Prices at Mr. Pancake (Emil-Riedel Str. 21)
NOTE: They are cash only at this location.
All the set meals hover around the 10 euro price point, with a bit more for meat options and a bit less for the vegetarian/sweet options.
The Mr. Bacon and Mr. Sausage were both 10.50, and cappuccinos were around 3 euros.
Sure, it's not cheap (clearly we're not at Denny's anymore!!), but it's tasty and the quality is great.
Service at Mr. Pancake (Emil-Riedel Str. 21)
The service here is friendly but pretty hands-off. After you're seated, you get a clipboard with a menu where you write down your order, then you bring it to the cash register and pay (remember, cash only).
We've only visited a few times during off-peak periods and it seems very much like a one-man show, so we didn't expect the staff (AKA that one guy) to be overly attentive. That said, he was super pleasant and nice when dropping off our food.
Ambiance at Mr. Pancake (Emil-Riedel Str. 21)
The ambiance is simple and homey. Don't come here expecting anything ultra fancy! It's a very minimalist design, but comfortable and airy.
NOTE: there's a much larger seating space than the other location, with about a 50 person capacity.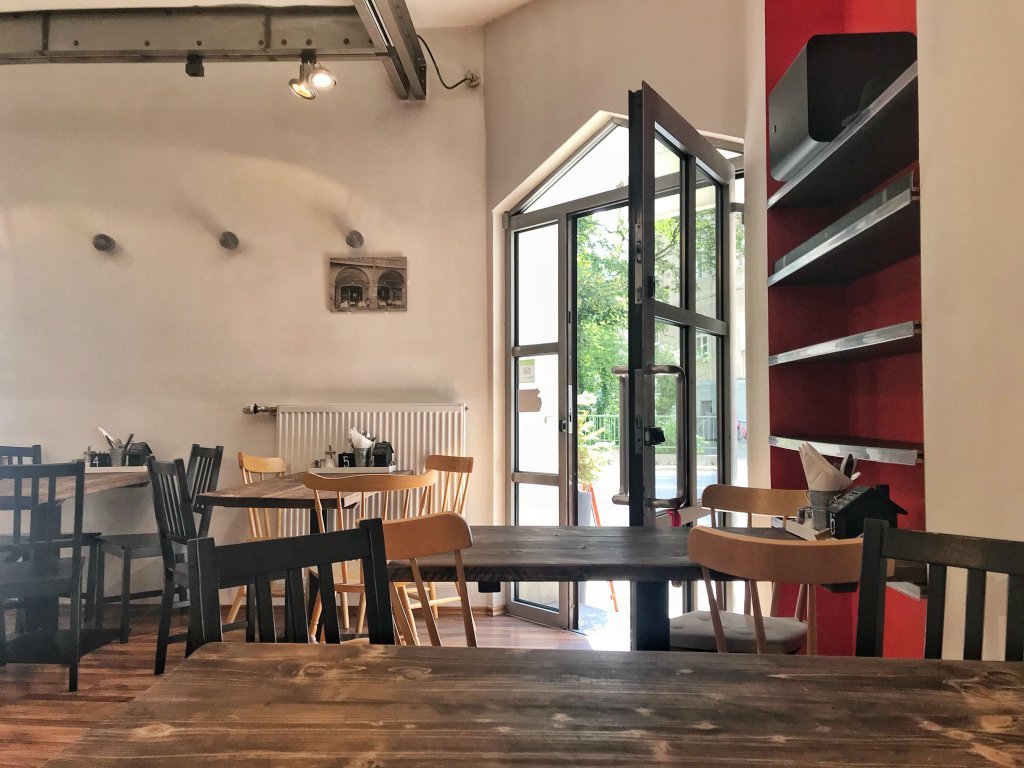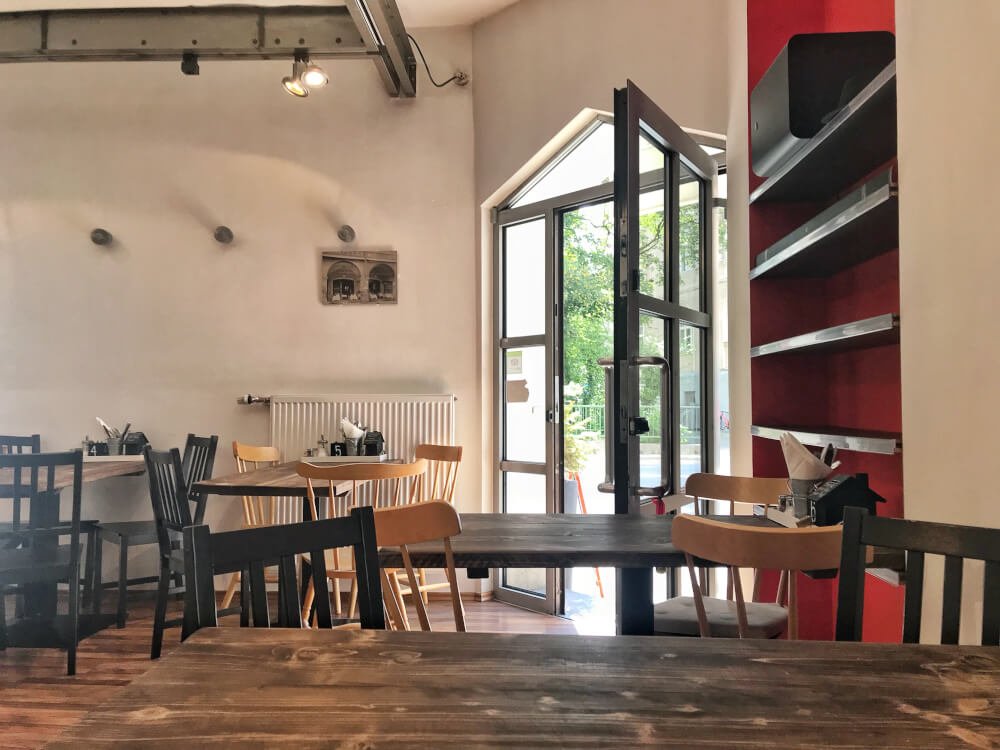 Mr. Pancake: The Final Verdict
Mr. Pancake is like the answer to our hearty breakfast prayers! While it's a little on the pricey side for breakfast, it's the perfect solution if you're looking for American style pancakes in old traditional Bavaria here. We'll definitely be back again!