*FYI - this post may affiliate links, which means we earn a commission (at no extra cost to you) if you purchase from them. Also, as an Amazon Associate, I earn from qualifying purchases. For the full scoop on what this means, feel free to check out our Privacy Policy and Disclosure.
Searching for spook-tacular Halloween parties in Munich? Well oh well, do we have the list of 8 great ones you don't want to miss!
Whether you want to celebrate the day of the dead or party all weekend long, Munich is home to the perfect assortment to meet your partying needs!
Classic Halloween happenings, costume karaoke or even a bit of drag for the scream queens. Our list below is sure to hold just the horrifyingly fun event for you and all your boo-s.
Yokocho Halloween Weekend
Looking for a little less trick and a bit more treating the crowds to your fantastic singing skills? Then Yokocho is the best bar to be at this Hallo-weekend!
Our favourite Munich Karaoke box bar has an entire weekend plan filled with costume parties, open bar karaoke games, giveaways and loads of amazing specials.
With so many options, why not gather your gang stop on by!
When: October 27-October 29,2022
Where: Yokocho Karaoke // Atelierstr.16
Cost:
Karen's Halloween Night
For those of you unfamiliar with The Werkroom, their Halloween event is one you should not pass by!
Not only because it's happening on Saturday (more parties to catch on Monday woop woop) but because their line up is massively fun!
With the talents of Munich's best drag stars, an open lip sync contest, un-beauty salon (no costume? no worries! they'll sort your look out) and of course amazing DJ's all night long.
…but did we mention a free drink for those who come in costume? So then, see you there!
When: October 29,2022 // Starting at 10P.M
Where: Villa Flora // Hansastr.44
Cost: 12€ // Get your tickets here!
For more Lgbtq-ute ways to make life in Munich more colourful, make sure to follow our sibling website Queer in Munich! There you can find a special event calendar to help you connect to local upcoming community events in English.
Devils Darlings Draglesque
Who says Halloween needs to only be scary? Substanz Club and their saucy star studded program begs to differ.
For fans of drag queens and kings, burlesque and undead strippers, The Devil's Darlings Draglesque is the terribly terrific top choice.
When: October 31,2022 // Entry is at 7P.M & the show begins at 8P.M
Where: Substanz Club // Ruppertstr. 28
Cost: 27€ // Get your tickets here
Dia de Los Muertos
The traditional Mexican holiday Day of The Dead is coming to life this year in Munich.
At Muffatwerk you can experience one of the most colorful Halloween parties the city has to offer. With live music from Kumbia Boruka followed by amazing Chilean DJ's after, this is the ultimate spot to dance the night away. Vamos A la Party!
When: October 31,2022 // Begins at 10P.M
Where: Muffatwerk // Zellstraße 4
Cost: 10€ // Find more information here
Hip Hop Halloween At Goldamsel
Hip Hop your way over to Munich's coolest neighbourhood bars this Halloween for some old school beats and festive liquid treats!
That's right, Glockenbach's great Goldamsel bar is about to become the Halloween sweet spot you'll need to trick and treat yo'self to.
With a live DJ, great drink specials and free shots for those who show up in costume, Shimmy Shimmy YEA you can count on us being there!
When: October 31,2022 // 8P.M
Where: Goldamsel // Reichenbachstr.37
Cost: Free Entry and every costume gets rewarded with shots!
The Lost Weekend Halloween Party
Maxvorstadt's favourite location is hosting yet another fang-tastic event, a huge Halloween party!
With live music, drink specials and even a costume contest. The Lost Weekend's Halloween party is looking like the perfect place to be…plus that 5€ entry fee is a pretty great deal.
When: October 31,2022
Where: The Lost Weekend // Schellingstraße 3
Cost: 5€
Altstadt Halloween Festival
This centrally located Halloween happening is the perfect spot for those looking to check out one of Munich's hidden gem venues.
The Winterquartier is conveniently located in Altstadt but don't let its hidden location fool you, the party packed inside is sure to impress.
With three different areas, welcome shots and some seriously tasty street food options, this indoor/outdoor Halloween party is a big pick in our books!
When: October 31,2022 // 5P.M-2A.M
Where: Winterquartier // Alter Hof 3
Cost: 10,72€ // Get your tickets here
Halloween Open Air & Indoor Festival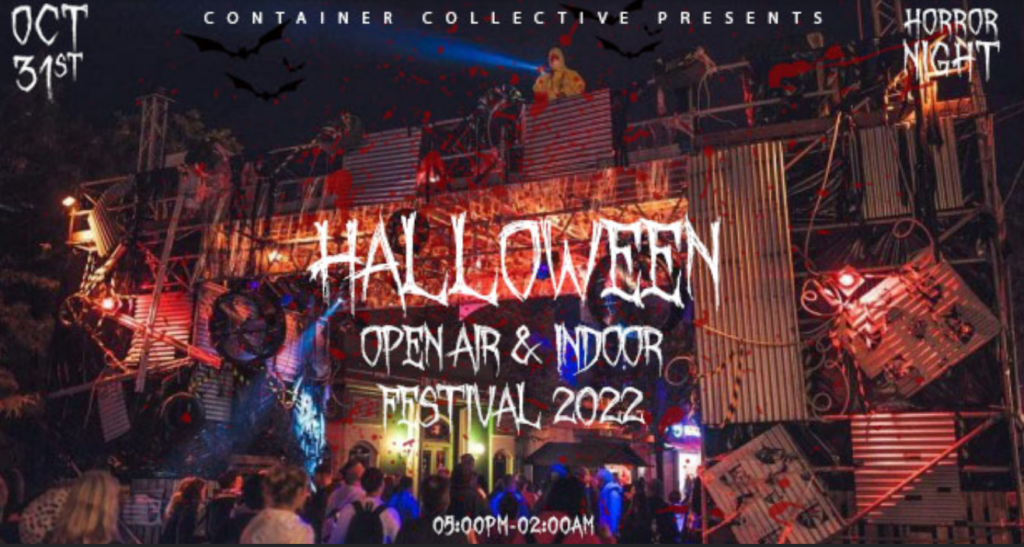 Creep on over to the Container Collective in Werksviertal for one of the biggest indoor and outdoor Halloween parties in Munich!
Spread out across three different locations; Container Graveyard Stage, Container of Nightmare Club Floor and Haunted Transit Rooftop Bar. The live line up and dancing opportunity are nearly endless!
Doors open at 5P.M with a welcome shot for all, just make sure to dress spooky and prepare for a spectacular time.
When: October 31,2022 // 5P.M-2A.M
Where: Container Collective // Atelierstr. 4
Cost: 10,72€ // Get your tickets here
Any other Munich Halloween Parties or Events we should add to the list?
Let us know in the comments! And be sure to check out our Instagram & TikTok for more great locations in Munich!